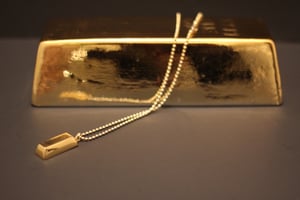 $

24.99
Box: N/A
Size: One Size fits all
Condition: New
Currently on backorder. Will ship once available.
Info: Not only is this chain heavy, it makes a statement everywhere we go. So many people have inquired about the Goldbar Chain its now available to you in limited quantities.
To us, the chain represents the finer things in life, and to continue pushing forward to you accomplish your dreams. Feel rich everyday of your life! Being rich is a state of mind!
-Ball chain necklace
-1.5" gold bar charm featuring logo engraving
-28" long with lobster clasp closure
-Imported
-By Flud Watches
Stay Connected:
-Instagram @goldbarkics_
-Twitter @goldbarkicks_
-Facebook Fan page